Software downloads
To take full advantage of this Support Site's functions, you are advised to log in.

Please create your account if you do not already have one. You can modify the information which you have provided by clicking on My Account at any time.
The Chauvin Arnoux Group strives to provide high-performance service online; if you have any remarks, please send us an email at support@chauvin-arnoux.com.
1 result(s) :
PAT-Power Analyser Transfer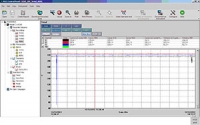 The
PAT Power Analyser Transfer
software can be used to control the
single-phase wattmeters and
energy analysers, as well as the
multimeter clamps.

The PAT software is a tool for:
Configuring the instruments,
Downloading and viewing the data stored in the memory,
Performing instantaneous acquisition operations,
Displaying the data as a table or graph,
Exporting the measurement data into DataView (*.dvb files) or into a spreadsheet.


For CA 8220/8230 CA 8332/32B/34/34B, CA8335/8435 (firmware versions v3.x) and F407 F607 use PAT, the main changes on PAT are :
For CA 8331/33/36, CA 8436 et CA8335 (firmware version v4.x) use PAT2, the main changes on PAT2 are :
added new language bulgarian
bugs fixed.

Caution: DataView is not supplied with the PAT/PAT2 softwares