Company
Our brands
Chauvin Arnoux
Chauvin Arnoux
Chauvin Arnoux®, the Group's eponymous core brand, offers a very broad range of portable measuring instruments for industry, the tertiary sector, housing, government departments, etc.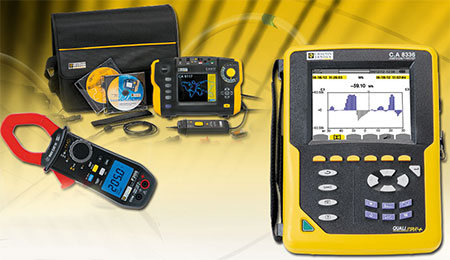 The wide variety of our instruments enables us to meet the requirements of the standards and customers' expectations in the following fields:
- universal testing: testers, VATs, multimeters, clamps, etc.
- electrical testing and safety: installation testers, insulation testers, leakage current clamps, earth/ground testers, micro-ohmmeters, rotation testers, etc.
- network quality: power and harmonics clamps, network analysers,
- physical quantities: calibrators, thermometers, sensors, manometers, luxmeters, sound level meters, tachometers, etc.,
- laboratory instrumentation: training case, analogue testers, The brand benefits from the Group's R&D and integrated production structures which have led to the development of flagship products such as the Qualistar® analyser, the PEL logger and the Digiflex® sensors, which have both recently been awarded prizes by the profession (Electron d'Or and Electron d'Argent in the Electrical Instrumentation category).