Check your earthing in total safety!
Check your earthing in total safety!
Chauvin Arnoux, the expert in measuring instruments for electrical testing and safety, is commercializing 2 new earth/ground testers: the CA 6422 and CA 6424. Their strengths include their compact, IP65, ergonomic design, their high accuracy and a long battery life.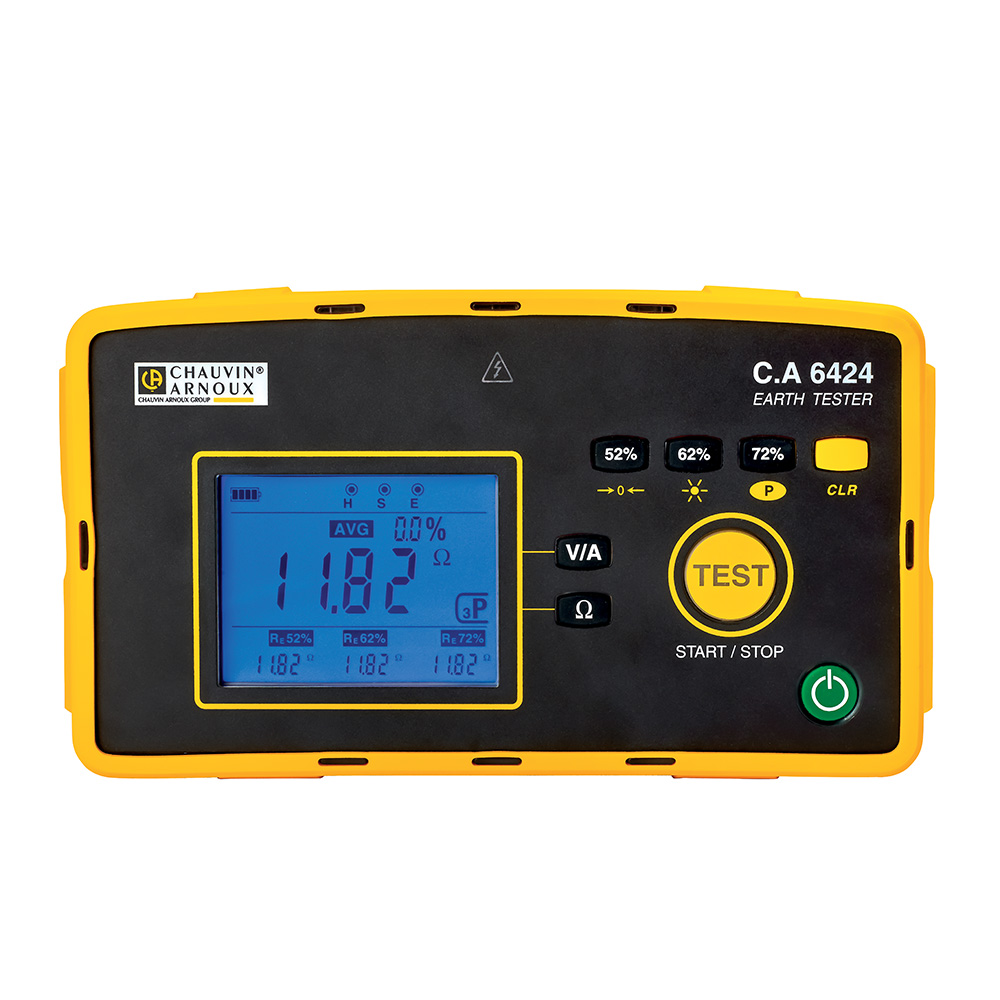 ◊

Ergonomics
In the field, including on soils with high resistivity, the rugged, waterproof (IP65) CA 6422 and CA 6424 earth/ground testers are ideal for all your earth measurements in 600V CAT IV environments. Intended for intensive use, they are designed to ensure the operator works in total safety. As soon as a hazardous voltage is detected, a LED lights up and measurement is no longer possible. The colour-coded connections with text markings also help to minimize the risk of mistakes.
All the functions are available on the testers' front panel and are accessible even when wearing safety gloves. The test activation button is backlit and perfectly visible whatever the conditions. Indicators to help with operation are displayed on the wide backlit LCD screen. The CA 6424 also offers an input for recharging its batteries via the mains, a vehicle cigarette lighter or a USB socket.
◊

Measurements
The CA 6422 and CA 6424 automatically perform a resistance measurement in 2P mode as soon as they are powered up. A short press on TEST is all it takes to start measurements in one-shot 3P mode. A long press sets the tester to continuous 3P mode. These 2 testers are equipped with an internal filtering system which offers automatic stabilization of the measurement. If a noise voltage is present, the NOISE symbol flashes. If this occurs, the measurement frequency is switched automatically from 128 Hz to 256 Hz in order to improve the accuracy. The CA 6422 can be used for 2P resistance measurements and 3P earth/ground measurements. The CA 6424 also measures the voltage and the leakage current by means of an optional clamp. In 2P mode, the CA 6424 stores the measurements at 52%/62%/72% and calculates the average and the deviation in %. This model measures the resistance of the RH stake and the USE voltage.
ı Additional specifications
General specifications:
3P earth from 0.5Ω to 50 kΩ
- 2P resistance from 0.05Ω to 50 kΩ
- Cable compensation in 2P mode
- RH stake resistance from 0.5Ω to 50 kΩ
- Voltage up to 600 VAC
- Current from 0.5 mA to 60 A with G72 clamp
- Battery life > 1,500 x 3P measurements
- Deactivatable automatic power-off function
- Power supply: 6 NiMH rechargeable batteries
CA 6422
- 3P earth from 0.5Ω to 2 kΩ
- 2P resistance from 0.05Ω to 50 kΩ
- Battery life > 2,000 x 3P measurements
- Power supply: 6 x LR6 or AA batteries
CA 6424
3P earth from 0.5Ω to 50 kΩ
- 2P resistance from 0.05Ω to 50 kΩ
- Cable compensation in 2P mode
- RH stake resistance from 0.5Ω to 50 kΩ
- Voltage up to 600 VAC
- Current from 0.5 mA to 60 A with G72 clamp
- Battery life > 1,500 x 3P earth measurements
- Deactivatable automatic power-off function
- Power supply: 6 NiMH rechargeable batteries