NEW RANGE FOR ENVIRONMENTAL MEASUREMENTS
NEW RANGE FOR ENVIRONMENTAL MEASUREMENTS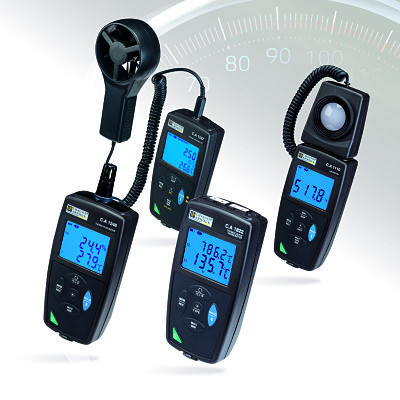 NEW RANGE FOR ENVIRONMENTAL MEASUREMENTS
Energy efficiency – Construction, environmental engineering, regulatory testing, maintenance and repairs - an environmental measuring instrument for each application.
-C.A 1227 logger thermo-anemometer
-C.A 1246 logger thermo-hygrometer
-C.A 1821, C.A 1822 & C.A 1823 logger contact thermometers
NEW ! Chauvin Arnoux is launching a new range of environmental measurement instruments. Comprising 6 models, this comprehensive range covers all the applications in the field. Compact and ergonomic, they are designed to be simple to learn, with direct access to the functions.
This range also offers an exception battery life of up to 1,000 hrs in portable use and 3 years for recording.
Portable and equipped with a wide backlit display, all the measurements are accessible on the instrument's front panel simply by pressing: 1 key = 1 function !
-Energy efficiency – Construction, in the context of European directive 2012/27/UE for correlati.on of the consumption data with ambient environmental criteria: temperature (C.A 1821, C.A 1822, CA 1823), lighting (C.A 1110) and flow rates (C.A 1227).
-Environmental engineering, in the context of HVAC commissioning and maintenance.
-Regulatory testing, for verification of compliance with the requirements concerning lighting (C.A 1110), temperature and humidity (C.A 1246), etc., in the workplace
-Industrial maintenance and repairs
Recording can be started and stopped manually on the instrument: short press on MEM for spot recording or long press on REC for recording at the rate of the active mode. These instruments also allow you to perform programmed recording (start date, measurement interval from 1 minute to 2 hours and end date customizable with the Data Logger Transfer PC software.
This function enables the C.A 1110 logger luxmeter to map the lighting in an area or room; the lighting measurements are then saved in the same file. The MAP mode can also map the air speeds measured (C.A 1227 logger thermo-anemometer).
Smart, essential software
The Data Logger Transfer data analysis software automatically recognizes the instrument when it is connected to the PC via Bluetooth or USB. It allows users to download and display the stored data in real time.
-Display as graphs or value tables
-Data export in the form of graphs or Excel spreadsheets
-Real-time mode
-Automatic generation of reports in Word format
-Data format compatible with the DataView software
-Long battery life: up to 1,000 hrs in portable use and 3 years for recording
-Simple portable use: 1 key = 1 function
-Compact communicating instruments (USB and Bluetooth) with wide backlit display
-Excellent metrological performance
-Ingress protection: IP54 casing (C.A 1821, 1822, 1823 and 1246)
-Magnetized instruments equipped with Multifix-compatible hooks
-Shockproof sheaths available as accessories