New Chauvin Arnoux stand: designed above all for our customers!
New Chauvin Arnoux stand: designed above all for our customers!
A stand entirely designed to encourage interactions between customers, products and Chauvin Arnoux. Check it out now!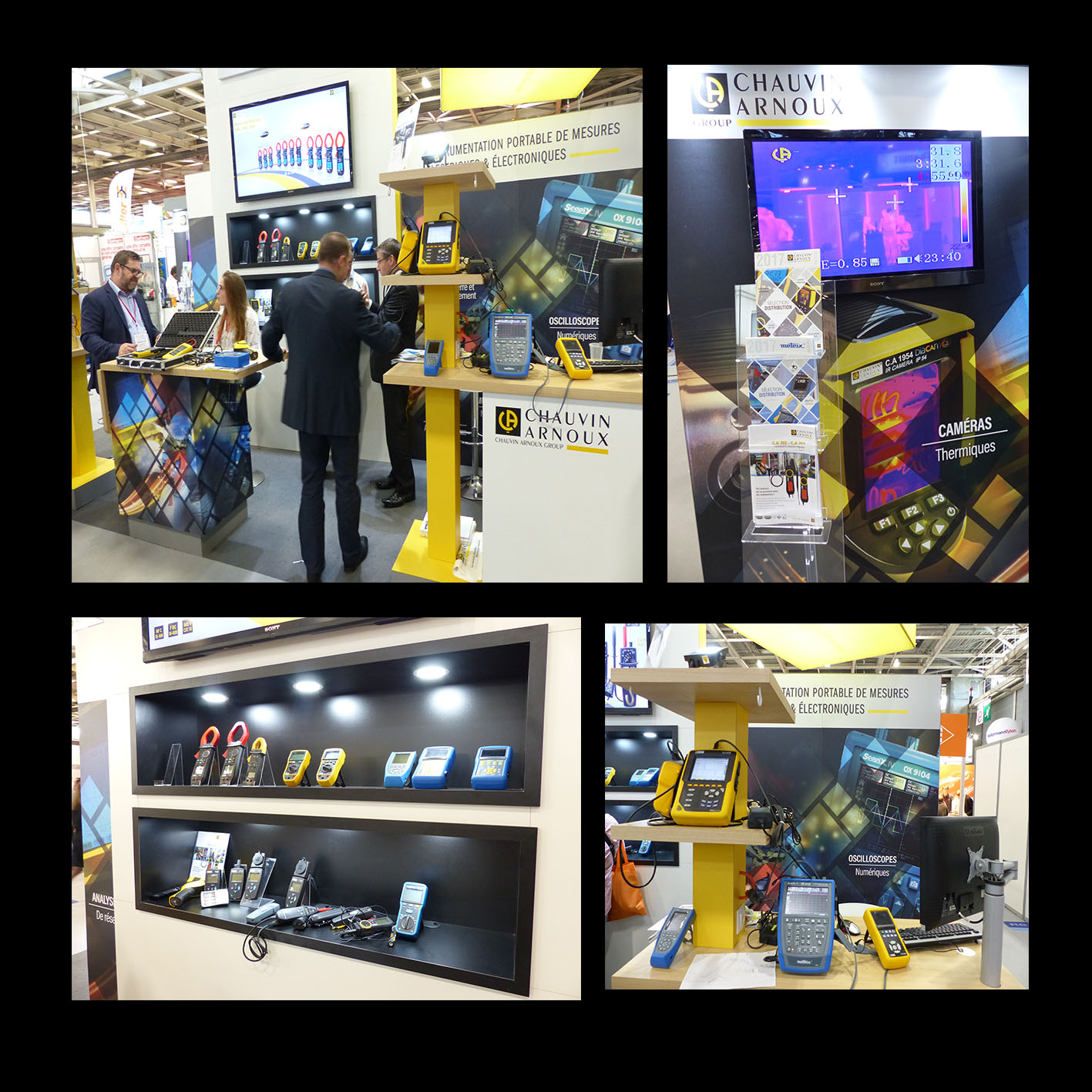 The 

new Chauvin Arnoux stand has been entirely designed to encourage as much interaction between customers, products and Chauvin Arnoux as possible. Because we want our stand to meet your expectations and needs, we have focused on 3 complementary goals: aesthetics, interactivity and a friendly welcome.

A stand with visuals designed for you…

The stand aims to be visually aesthetic, graphical and modern. The goal is to communicate the Chauvin Arnoux Group's values: history, proximity to its customers and innovation. The stand is designed to be "lively" and interactive so that visitors spend quality time in a rich, forward-looking environment, while respecting Chauvin Arnoux's history as a "pioneer". Our various product ranges are perfectly integrated in this graphical environment and are highlighted by means of broad presentation cases and totems, encouraging people to handle them.



Favouring a friendly welcome, discussion and dialogue…



Our main aim is to make the welcome as friendly as possible for our visitors and, obviously, to give priority to quality dialogue and encourage people to share their experience. Placing the customer at the core of our preoccupations has been an integral part of the Chauvin Arnoux Group's DNA for 125 years now. The stand is therefore designed to be open and our teams are always ready to listen and answer all your questions.


An interactive stand where each visitor is an actor…

A large number of our instruments are made available so that you can handle them interactively. For more thorough understanding of our products' functions and technological strengths, our teams also offer demonstrations.




Among our extensive range of products, you can discover and test:

-The SCOPIX IV (OX 9104), one of our latest products, is available on the stand so that you can handle it and watch demonstrations. This portable digital oscilloscope (using tablet-style icons) is a stand-alone instrument packed full of high technology, with 4 totally-isolated 600 V channels with a bandwidth of 300 MHz. Designed for simplified use, it is equipped with a memory depth of 100 kpoints per channel, significantly increasing the recording durations possible. In a casing tailored to be as compact as possible, the internal mechanical design of the SCOPIX IV models helps to integrate the hardware components in a very confined space. 
Come and check it out now!

-The C.A 1954 thermal camera in the DIACAM 2 range is also highlighted on the stand. 
A special dedicated area can be used to perform demonstrations and immediately discover the rendering on the wide screen. 
Designed and developed for simplified use, the C.A 1954 thermal camera offers exceptional battery life, and is ideal for all the applications in the construction, electrical maintenance and mechanical maintenance sectors. 

-Another instrument range which you can discover or rediscover: the QUALISTAR + range of power and energy quality analysers. 


You can check it out and test its strengths:


-Measurement of the useful voltage, current and power parameters and even complete diagnosis of an electrical installation.
-All the power surveys needed to produce an energy efficiency diagnosis
-Simultaneous capture and recording of all the parameters, transients, alarms and waveforms.
-Proven simplicity of use.

WE LOOK FORWARD TO SEEING YOU SOON ON OUR STAND AT OUR UPCOMING TRADE FAIRS!