Nuclear-qualified measurement solutions
Nuclear-qualified measurement solutions
Reliability and performance in the heart of nuclear power plants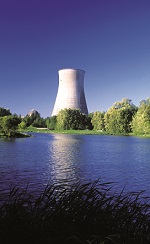 As early as the 1970s, Pyrocontrole was already involved in the manufacture of temperature sensors for the nuclear industry and that involvement has continued to grow ever since.
Our sensors, qualified to withstand the most extreme conditions in terms of irradiation, earthquake, temperature and pressure, enable you measure the temperatures in your installations as reliably as possible in all circumstances.







---
Operation
Our K1, K2, K3 and NC-qualified temperature sensors are installed on the REP 900 MW, 1300 MW and N4 Series and in third-generation EPR power plants.
---
OUR SENSORS OFFERING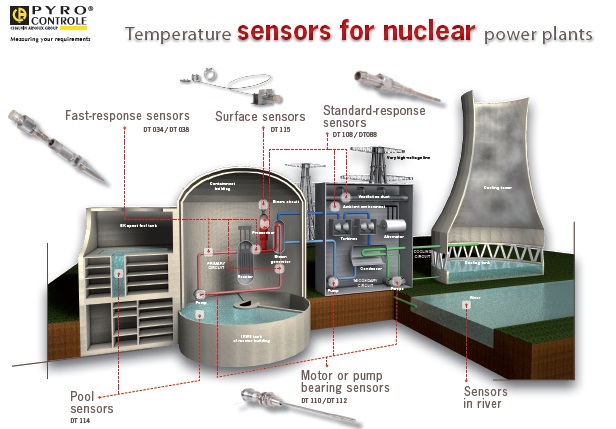 Qualified to withstand the most extreme conditions (irradiation, earthquake, high temperatures, high pressures, etc.), our sensors are positioned at all the strategic points in a nuclear installation.
>Applications: from the reactor building to the machine sets, as well as in the auxiliary buildings, our experts have designed a range of sensors equipped with reliable, innovative technologies.




• Motor or pump-bearing sensors
These monitor heating inside the primary and secondary pump bearings,
as well as in the safety pumps and lift pumps.






• Fast-response sensors
These provide accurate instantenous temperature measurements
in the primary loop, even when there are rapid variations.





• Sensors with standard response times
These provide particularly accurate temperature measurements,
from the pressurizer to the machine sets.





• Surface sensors
These are fitted on the essential safety systems. They measure the
duct temperatures non-intrusively.



• Pool sensors
These measure the temperature at the bottom of the pool.

• Cooling-tank sensors
These measure the water temperature in the waste-water cooling tanks of
nuclear power plants located close to the sea which use salt water for
cooling.

STANDARDS AND CERTIFICATIONS
Pyrocontrole benefits from the following certifications:
QN100/QN200/QN300
RCC-E
RCC-M
ASME code
ATEX
IEC 60751
ISO 9001
ISO 14001