CA 6163 electrical devices and electrical switchboards tester
CA 6163 electrical devices and electrical switchboards tester
Safe testing at high voltages!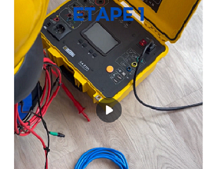 The brand new CA 6163 tester checks the safety of electrical devices and electrical switchboards.
Verification of conformity at the end of the production line (CE marking), periodic checks and preventive maintenance.
View the function for activation of the measurement with the HV test guns.