PEL105

return to the list
Advantages
5 voltage inputs & 4 current inputs
All-terrain shockproof casing resistant to UV light and high temperatures
Ideal for mounting on electricity poles
Self-powered by its voltage inputs up to 1,000 V
Continuous recording at 200 ms intervals
Measurements in compliance with IEEE 1459
Description
The PEL 105 logger is particularly simple to use with an all-terrain IP67 casing capable of withstanding shocks, UV rays and extreme temperatures.
It is ideal for outdoor installation directly on an electricity pole. With its 1,000 V CAT IV safety rating, it can be used for measurements on all LV networks, including measurements of the neutral-earth voltage and the neutral current. This stand-alone instrument is equipped with a selfpowering system via its voltage inputs up to 1,000 V. The PEL 105 offers 5 voltage inputs and 4 current inputs. Compatible with a large number of current sensors to make it easier to use, it also recognizes the sensors
automatically.
The PEL 105 can be used to measure, record and analyse the power values (W, var, VA) and energy values (kWh, kvarh, kVAh). At the same time, they record the PF and the DPF. Recording is continuous with a sampling interval of 200 ms.
References
Support
Software available for this product :
PEL Transfer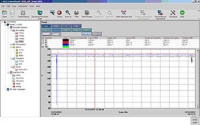 PEL Transfer
The PEL Transfer software can be used to control the PEL102, PEL103 and PEL105 power and energy loggers.

The PEL Transfer software is a tool for:
Configuring the instruments,
Downloading and viewing the data stored in the memory,
Performing instantaneous acquisition operations,
Displaying the data in the form of tables or graphs,
Exporting the measurement data into (*.dvb files) or into a spreadsheet.
This evolution brings new features:
- Add finish language
- Few minor bugs fixed.

Compatible with Windows 7, 8, 8.1 and 10
Caution : DataView is not supplied with the PEL Transfer software
DataView Suite
DataView Suite
DataView is a powerful tool for configuration, transfer and processing of measurement data for an extensive range of Chauvin Arnoux measuring instruments. The DataView Suite groups the DataView report editor and the PEL Transfer, PAT, GTT, ICT, DTR, SLII and MOT application software.
DataView v3.53.0012
Compatible instruments:
PEL 102, PEL 103 and PEL 105 power and energy loggers;
F407 and F607 power and harmonics clamps;
C.A 8220 and 8230 single-phase power analysers;
Qualistar C.A 8331,8332, 8333,8334, 8335, 8435, 8436 and 8336 three-phase power analysers;
C.A 6543, 6547, 6549, 6550 and 6555 megohmmeters;
C.A 6240, 6250, 6255 and 6292 micro-ohmmeters;
C.A 6470N, 6471 and 6472 earth testers;
DTR 8510 ratiometer for transformers;
Simple Logger II and L452;
C.A 1110, 1227, 1246, 1821, 1822, 1510 and 1823 physical measurement devices;
C.A 6116, 6116N and 6117 electrical installation testers.
Languages
DataView is available in the following languages: German, English, Chinese, Spanish, French, Italian, Dutch, Polish, Swedish, Czech and Turkish.
PEL105 firmware
PEL105 firmware
PEL105 firmware update.

Instructions :
- Connect the PEL105 to your computer
- Unzip the downloaded ZIP file 
- Launch FlashUp.exe 
- Load the update files included in the ZIP file ( PEL105.hex , PEL105_1.3.bin , wifi.hex)
- Choose Program Logger and DSP then click on Program