MTX 3291

return to the list
Advantages
Large LCD for multi-parameter display on 70x52 mm backlit screen.
Analytical tools: time/date-stamped surveillance of relative, Peak+/- and secondary measurements for an easy-to use multimeter with its digital keyboard equipped with lighting.
Optimized ergonomics: IP67 leakproof casing, IEC61010 1,000V CAT III/600V CAT IV safety measurement terminals, power supply by normal battery or Ni-MH rechargeable battery with comprehensive management of the battery charge on screen.
Multiple quantities measured around the main function, relative measurements and direct measurement of current via a clamp (mV output) with integration of the transformation ratio for an advanced multimeter.USB communication via the SX-DMM software delivered with the product and SCPI programming commands.
Description
ASYC IV MTX 3291 - The reference for multimeters

These portable multimeters with digital display allowing direct measurement of the main electrical quantities benefit from an innovative design making them compact, rugged, leakproof and comfortable to grip.

Simple multimeters
• Easy-to-read 70x52 mm LCD screen
• Contextual reminder of connection on the screen
• Current autoranging, single terminal up to 10 A
• Secondary measurements in addition to the main measurement to facilitate analysis
• Surveillance of the MIN/MAX and AVG data with relative time/date-stamping and of voltage and current peaks
• SX-DMM software for real-time processing of the data on a PC

And much more...
• IP67 protection against water projection and dust, ideal for outdoor conditions
• Powered by 4 standard AA batteries or 4 Ni-MH batteries rechargeable with an HX0051B external module (option)
• Operation for up to 400 hrs on batteries


References
Support
Software available for this product :
SX-DMM V2.9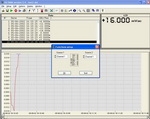 SX-DMM V2.9
Designed for the main  Metrix multimeters, SX-DMM can be used to:

acquire, record and process the measurements from up to four multimeters;
XY, derivative, integral and curve smoothing functions;
display in curve and table form.

Latest version of SX-DMM, compatible with the MX5060, MTX 3281/3282/3283, MTX 3291/3292/3293 and MX58/59HD multimeters.


Configuration

Your multimeters:

MX5060 with USB,
MTX3281, MTX3282, MTX3283, MTX3291, MTX3292, MTX3293 with optical link or Bluetooth
MX26 with optical link,
MX58HD, MD59HD, MX53C, MX54C and MX56C and the RS232 kit,
MX556, MTX3250 with RS232 link. 

System
Windows 7/8/10. 
PC with 1 GHz processor or higher, 512 MB RAM, 10 GB HD equipped with a serial or USB port.

Languages
Version in 5 languages: English, German, Spanish, French and Italian. 
| | |
| --- | --- |
| sx-dmmv2.9.exe | Updated : 20/09/2016 Language : Multilingual Version : V2.9 |