C.A 834

return to the list
Description
The C.A 834 Recording Sound Level Meter is designed to evaluate acoustic environments or noise pollution in compliance with the applicable legislation. It comes in a compact, rugged casing and has a very large recording capacity of 32,000 values.
Compliant with IEC 651 type 2
4 measurement ranges from 30 to 130 dB
Accuracy: ± 1.5 dB
Resolution: 0.1 dB
Time weighting: Fast, Slow
Frequency weighting: dB(A) and dB(C)
Storage capacity of 32 000 valeurs
Acquisition rate: from 1 s to 1 hr
Tripod insert
Delivered with data processing software
Dimensions: 205 x 60.5 x 38 mm
Weight: 230 g
References
Support
Software available for this product :
C.A 834 TestLink SE322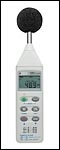 C.A 834 TestLink SE322
Bilingual French-English version of the TestLink SE322 software for the C.A 834 sound level meter-recorder.
This software makes it very simple to:
recover the data from the measuring instrument
collect the data in real time from the instrument currently connected to the PC
Minimum configuration
Windows 98, 2000, XP, Vista, Seven, 8, 8.1 and 10
Minimum hardware requirements:
PC or NoteBook with a Pentium 90 MHz processor and at least 32 MB of RAM
At least 5 Mbits of free hard disk space available to install the TestLink software
Recommended 800 x 600 resolution with high-resolution colour (16 bits)
Software in English or in French, depending on menu selection.
| | |
| --- | --- |
| se322_3.6.0.0.zip | Date de mise à jour : 04/09/2012 Langue : Multilingue Version : V3.6 |