C.A 1510

return to the list
Description
In indoor environments, dense occupation and insufficient air renewal lead to high CO2 concentrations. The level of CO2 is therefore an excellent indicator of air quality, alongside pollution analysis performed by inspection organizations and laboratories, as well as showing the effectiveness of the air renewal systems for environmental engineering professionals.

In addition to its portable function, the simple, user-friendly C.A 1510 is capable of recording the parameters measured and monitoring air quality criteria based either on the level of CO2 or on a combination of the three physical quantities measured.
CO2: 0 to 5,000 ppm
Accuracy: ± (50 ppm + 3% of the value measured)
Temperature: -10 °C to +60 °C
Accuracy: ± 0.5 °C
Humidity: 5 to 95 %RH
Accuracy: ± 2%RH
Recording: 1 million values stored on the product in the form of several measurement campaigns
USB interface (product recognized as a USB key) or Bluetooth for wireless use
Software supplied as standard and 1510 application available with Android
Locking of the instrument possible during recording (display & keyboard)
Numerous mounting possibilities (magnetized product, wall support, wall support with padlock insert, desktop stand or suspended).
References
Support
Software available for this product :
Data Logger Transfer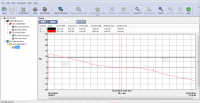 Data Logger Transfer
Data Logger Transfer software allows you to pilot your loggers.
With the software Data Logger Transfer, you will be able to :


Setup the instruments,
Download and display the trends,
Display real time values,
Display data in curves or table,
Export automatic reports in Word (.docx format),
Export data into Dataview (.dvb files) or into Excel
Compatible with Windows 7, 8, 8.1 and 10.

Attention: DataView is not provided with the software Data Logger Transfer
| | |
| --- | --- |
| dl-2.02.0080.zip | Updated : 01/23/2019 Language : Multilingual Version : v2.02.0080 |
DataView Suite
DataView Suite
DataView is a powerful tool for configuration, transfer and processing of measurement data for an extensive range of Chauvin Arnoux measuring instruments. The DataView Suite groups the DataView report editor and the PEL Transfer, PAT, GTT, ICT, DTR, SLII and MOT application software.
DataView v3.53.0012
Compatible instruments:
PEL 102, PEL 103 and PEL 105 power and energy loggers;
F407 and F607 power and harmonics clamps;
C.A 8220 and 8230 single-phase power analysers;
Qualistar C.A 8331,8332, 8333,8334, 8335, 8435, 8436 and 8336 three-phase power analysers;
C.A 6543, 6547, 6549, 6550 and 6555 megohmmeters;
C.A 6240, 6250, 6255 and 6292 micro-ohmmeters;
C.A 6470N, 6471 and 6472 earth testers;
DTR 8510 ratiometer for transformers;
Simple Logger II and L452;
C.A 1110, 1227, 1246, 1821, 1822, 1510 and 1823 physical measurement devices;
C.A 6116, 6116N and 6117 electrical installation testers.
Languages
DataView is available in the following languages: German, English, Chinese, Spanish, French, Italian, Dutch, Polish, Swedish, Czech and Turkish.